Fiora is renowned for the design and manufacture of furniture, mirrors and accessories for the bathroom. With their prime quality finishes, our items of furniture belong to the medium-top range and will be found in the principal retail shops in Spain and Portugal.

All the Fiora products are produced, using the most advanced technical methods, but with the craftsperson's accuracy and conscience. For this reason, they stand out from the competition.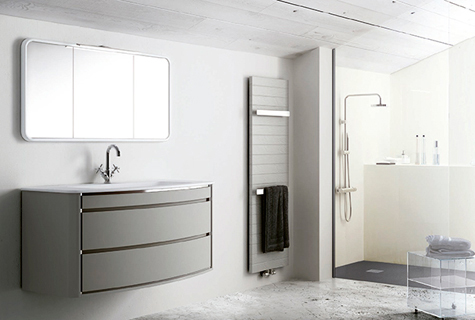 In Touch Collection is the perfect combination of materials, shapes and colours. The rounded lines of its finishes give it a vintage style and the perfectly finished interiors are designed for a practical distribution of objects. The singularity of the 'In Touch' Collection is reinforced by the metal trim around the doors and drawers, and by its free-standing or wall-mounted options, and by the addition of modules according to the requirements of the room.
ADAPTABILITY The shower tray which fits anywhere
One of the main new features of the Fiora SILEX shower tray is its adaptability and flexibility to fit into any ambience, whether private homes or in public venues such as sports centres, outdoor or indoor swimming pools, etc. Moreover, two of the trays within the SILEX collection, Extra Flat made-to-measure and Framed made-to-measure, can be personalised thus lending them greater exclusivity and the ability to meet any requirement.
TECHNOLOGY DEVELOPED IN-HOUSE 100% QUALITY AND AUTHENTICITY
Fiora 100%. It has already been proved that the best and most original ideas stem from investment in research and technology. Silex has been designed and created based on Fiora's own and innovative technological development. As such, in conjunction with the best professionals, and an analysis of all your requirements, the most innovative and exclusive solutions on the market are brought to life. Put your trust in Fiora.
ANTI-SLIP SURFACE CLASS 2 SAFETY AND COMFORT
Guaranteeing your safety, and that of your family, as well as gaining your trust are two of Fiora's main objectives. That is why the shower trays have an anti-slip surface class 2. However, in order to guarantee this safety and user comfort, the quest for the most pleasant textures for your feet and body has been unrelenting to create a collection which will help you to enjoy the most relaxing moments.
Easily MANIPULABLE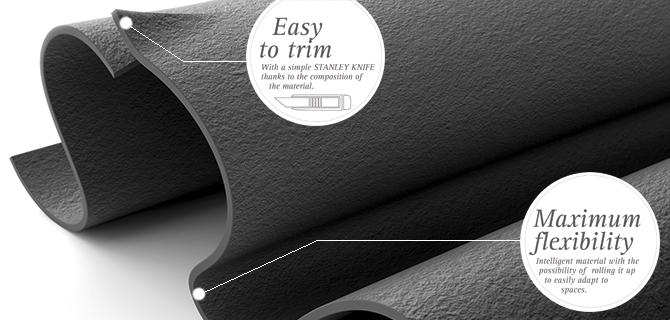 Iits intelligent material can be shaped with a Stanley knife and slight bending. meaning that it can easily adapt to any space. it is flexible and can be rolled up, facilitating its transport and storage.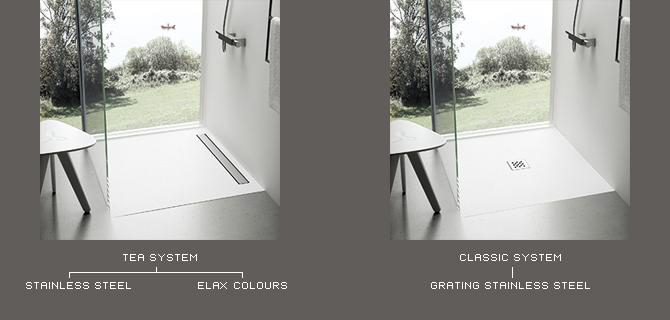 2 Sistemas de evacuación TEA SYSTEM. Is a new technological solution because it enables a powerful drainage of water and is aesthetic as it is placed level with the floor in stainless steel or with any of the elax finishes . CLASSIC SYSTEM. Is a water drainage system that is already implemented and in operation in elax trays. with excellent drainage capacity, it offers a superb aesthetic solution.